How I Manifested Disneyland!!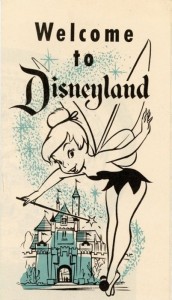 believe in magic
How I manifested Disneyland using the #HBRMethod.
I got an email from a reader the other day asking me an interesting question about Hustle.Believe.Receive.  She said she'd had a picture of a concert that she wanted to attend on her Future Board, and she was so excited to learn the artist was coming to her town, so she went and got her ticket.  She was sure this was her manifestation.  However the artist unexpectedly canceled the show, so she wondered if this meant that HBR doesn't really work. All I could tell her is my own example of this exact scenario.
The "when" and the "how" are not up to us. But the hustle and the believe is.
In 2010 I had plans to take Kanen to Disneyland.  We had been planning the trip for some time and I'd even pre-paid the hotel. When I finally had enough miles for the trip and went to book it the airline was completely blacked out.  We were obviously very disappointed, but I told him that just because the trip wasn't working out that time, that it WOULD happen, and not to give up faith.  That year I used miles to get him and I tickets to Hawaii instead and we had the most amazing trip together.
Fast forward to this year.  I've spent the last year at my job working
hard, and fighting back from a very tough economic 2011, last year was a
"get back on my feet year" for sure.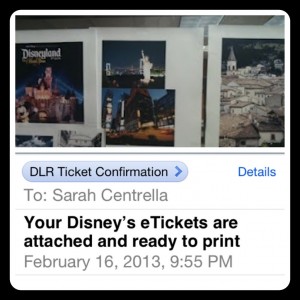 Top, picture of Disneyland on my vision board, & my tix
But I still never gave up hope that I'd be able to take him, and just maybe be able to take all my kids on that Disney vacation.  Well last year, at work I finished well over my goals and targets, and as my bonus was granted funds towards a vacation!! I also had enough miles saved up, that with some creative scheduling was able to get four tickets to Disneyland!
So this week, a dream that started in 2005 when I put the very first picture of Disneyland on my very first vision board is about to come true… there really are no words to describe how that feels.
The key to HBR is that you need to trust that it has your best interests in mind, always.  Even when you can't see it.  That's where faith comes in.  You have to believe even when you're disappointed, that it is still working on your behalf.  Because behind the scenes it's hard at work to make your ultimate dream come true.  It is always working, to bring you a dream bigger than what you are even imagined. But it takes time. It works on it's own schedule.  So lean into it.  Don't fight or doubt it, just because it's not instant and because you encounter disappointments.  It's still hard at work as long as you are.  Taking all my kids to Disneyland was a far bigger dream then I initially had.  I really never thought I'd be in a position to afford to take them all.
The Hustle is such a vital part of manifesting your dream. Had I not worked hard all of last year, and made my numbers at work, I would have never gotten the funds or be making the money needed to take the trip. I've worked hard this last year and sacrificed a lot, but it's paid off.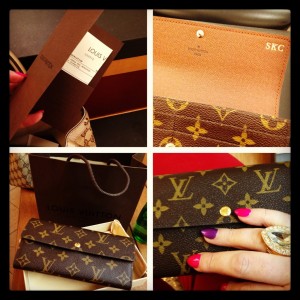 A 10 year dream come true
Now it's time to receive.
This past weekend I had a day that I'd dreamed about for years.  Since 2003, long before I knew about  HBR or any of that stuff, I had a picture of a Louis Vuitton wallet on my wall at work.  I've always said if I ever made a commission check of "x" amount that I'd walk into a Louis Vuitton store and purchase that wallet.  Well ten years later, I did just that.  And went on my first ever "shopping spree".  I've never experienced a day like that in my life.  However I have patiently waited for it, knowing that some how, some way, it would come.  And I can tell you  it was well worth the wait.
I don't say any of this to sound pretentious or to brag. I say it ONLY to inspire you.  If you've read my blog for a while you KNOW what I mean. You know where I've come up from, you understand what I'm saying.
I want you to be inspired.
Four years ago I was jobless, living on food stamps.  Two years ago I was homeless for three weeks, jobless and living in a Red Cross hotel.  Your dreams are possible.  The life you want is possible.  It's just waiting for you to claim it. To own it. To make it yours.  Put in the work, set your mind on your goal and LET NOTHING STAND IN YOUR WAY. Let nothing take away your faith.  Let nothing defeat you.  If you do that, then believe me when I say ANYTHING IS POSSIBLE.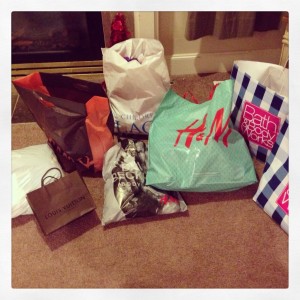 My first ever "shopping spree"
*If you'd like to learn how to manifest your dream life and make a #FutureBoard (vision board) that will actually WORK, sign up now for my #HBRBootcamp
Sarah Centrella is the author of the book Hustle Believe Receive which teaches you how to apply the #HBRMethod to change your life and live your dream.
Follow on social media: Instagram | Twitter | Snapchat | Pinterest | YouTube |Periscope @sarahcentrella