Marathon Life. Week 9.
It's Saturday so that means I'm icing my knees after another grueling training run with Portland Fit. Today I ran ten (10) miles through neighborhoods, up crazy vertical hills, along a highway, through a forest up a hillside of stairs and along the river… then did it all again on the way back.
It's crazy how I equally dread and get excited about these Saturday marathon training runs. I never thought I'd get excited that's for sure. But the feeling of completing the run is like nothing else, for real. I think I'm most addicted to the feeling of accomplishment and triumph over my mind, that it takes to get it done. Today I ran it at a 14 minute mile pace which I'm overjoyed by, finishing in 2 hours and 18 minutes, I guess that means I could finish the Portland Marathon in under 8 hours! Wooohooo!
I'm doing this for two reasons:
#1. I've had it on my Bucket List for years that I wanted to run a marathon by the time I'm 40 (I'll be 39 next month).
#2. To prove to my son that Hustle.Believe.Receive applies to anything in life, and with it anything is possible.
The kinda awesome side effect is that I've lost about 15 lbs, and am finally getting in the kind of shape I haven't been in since I was 22. It's about time! Better late than never.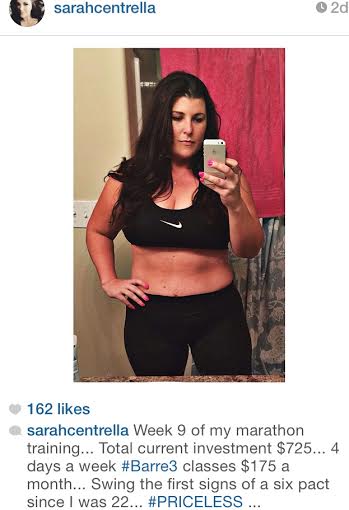 This week I started with the pack, and despite not walking more than maybe 2% of the course I still wound up near that back (though not as far behind) and found myself without a pace setter.  It's funny though, this week my own motivation and determination and personal goals were enough to keep me going when I would have walked before. I set out with the goal to run all the parts I've walked before, and finished with it accomplished. I love how tangible running is, it's an immediate visual and actual connection with what we think and its following action.  It's a great exercise in controlling your mind, and for that alone I needed this experience. I needed to be reminded of all the things I believe in and practice it more diligently than ever before. Mission accomplished.
I can't wait 'till October and race day, can't even imagine what that's going to be like, but I know I can do it.