Can Law of Attraction Help Me Lose Weight?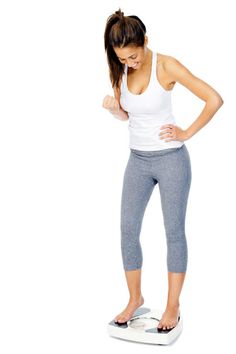 I have readers write to me all the time asking me if the Law of Attraction can help them lose weight. They might have watched
The Secret Movie,
or
Googled
the term
Law of Attraction
and the idea that you can use your thoughts to lose weight, without diet and exercise, is for obvious reasons very exciting for them.
I can relate. I have struggled with my weight since I was 12 years old. And by "struggled", I mean it was all-consuming. It's what I thought about when I woke up, what I spent my time dwelling on throughout the day, and what I tore myself down for at the end-of-the-day. I became one of those people who talked about it constantly. In conversations with my girlfriends, or ex-husband, or anyone who would listen. I'd say how "gross and disgusting I felt and was". I'd talk about how "fat" I was, and refuse to by close because I didn't want to have to go up a size. I always had this thought that when people looked at me they saw someone obese, and therefore if I acknowledged how awful I was I could preëmpt their judgment. I thought that if I made jokes about my weight than I'd make people feel more comfortable around me, at least they wouldn't think I didn't notice I had a problem.
And of course the irony of all of this is that most of my life I was a fit size 8-12. I'd always worked out but never really been able to lose weight if I tried; as a result I told myself that "nothing I try will ever work. I can't lose weight no matter what. I'm fat and will always be that way" and on and on. And it was true, nothing I tried did work. Now looking back I think how sad it was that I spent my teens and twenties believing all those things about myself and all that time hating my body. How sad that I spent all those great young years not being grateful for what I had. In high school I was hospitalized for bulimia. Regularly passed out from trying to starve myself after throwing up didn't work. It was a sick cycle. After my kids were born losing weight was impossible and I hated myself even more, I didn't even recognize my reflection. It got to the point where the depression took over my life; I refused to be in pictures, even ones with my babies.
Here's how my version of the Law Of Attraction (called Hustle.Believe.Receive.) changed all that for me. Manifesting weight loss is the same as manifesting anything else, the same rules apply.
1. What you think about grows. In other words, whatever you are thinking about all day: "I'm so fat. I hate myself. I'm repulsive. I won't lose weight; I'll fail this time just like the others." or whatever… all of those things will keep coming true for you. The words you speak become your future. So if you don't want it to come true, DON'T SAY IT. Verbalizing it gives it power to manifest, and it will. Just look at your past, that's the best indication that it works. Did you tell yourself you were fat and never going to lose weight and then magically lost weight? Probably not. That should be all the proof you need. Those thought controlled how you felt about yourself, they took your motivation, and they predicted your future, they delivered exactly what you asked for and more.
This very basic concept is all I understood in the beginning, and it is at the core to changing your life and losing weight. It's how you can get the Law of Attraction to work FOR and not AGAINST you. So my first step was changing the voices in my head, and to do that I simply flipped those negative thoughts around when they entered my mind. I gave the negative no more room to grow, and I refused to speak the negative any more. Every time I wanted to tell myself "I'm fat and feel disgusting" I instead said "I am beautiful and so lucky to feel great and be healthy". Over and over again. Of course I didn't actually look any different, and saying this felt awkward and fake, but I forced myself every day to keep telling myself these lies. This is the power of a mantra, it kills the negative voices. So every time a bad thought comes in bat it away like a tennis ball with the opposite thought. It takes effort in the beginning but after a few weeks it won't be that hard anymore, and over time you will start to actually believe it and feel better. And feeling better will motivate you to do what you already know you need to do from a health perspective… yep exercise and eat healthy.
But it starts in the mental space first. When you have your thoughts on the right track it naturally motivates you to get the rest in line. I lied to myself for about a year, the whole year after my husband left. Then one day I looked in the mirror and was ready to repeat my "lie" but this time I felt beautiful. I looked in the mirror and for the first time in my life I actually was beautiful. The lie had worked. I'd lost the weight around my heart and on my body and the women who looked back at me was beautiful (still feels weird to say lol). In that year of taking care of my mental space and rebuilding my life and retraining my thoughts I'd also lost 40 lbs! It was the first weight I'd really ever lost in all my life, and it was the first time I hadn't focused on losing weight or even really thought about it, though of course I was working out like I'd done most of my life, and eating right like I'd also done most of my life, the only major change what how I thought about it and myself.
This is where Hustle.Believe.Receive. come into play. The Hustle was me using mantras and actively controlling your thoughts, on a conscious constant basis. This takes work and determination. The Believe will come after you've been telling yourself the positive message and it will be what will sustain your weight-loss and positive view of yourself for a lifetime. The Receive is when you will notice that it's all working, that you feel great, that your attitude about yourself (not just your weight, this is about YOU) has changed. The weight will come off like it did for me, I promise! But the bigger win for me is now I know how to control those destructive voices and know how to love and appreciate myself and that has translated into me feeling good about myself which has made it easy to maintain. I simply don't worry or think about it much anymore at all. Now if I don't work out for a while I start physically not feeling good, but I know how to get back in the groove.
2. Fear Breads Failure.
Sometimes it's hard to silence the fear of failure, the thinking that you've always relied on wants to take over and tell you this won't work for you. Just remember that what you say is an even stronger predictor of your outcome than what you think. Watch the way you talk to your friends and family about your weight or yourself. Do not vocalize anything you do not want to come true. Be absolute in your goals and resolution to win this war in your mind. You can't predict when you will reach your goal, but if you put in the work to change your thinking, you start being active, and you believe; then it will BE YOUR REALITY. That's all. So don't be your own enemy.
"Go confidently in the direction of your dreams" ~Thoreau
Want to work with me? Learn more about my coaching and schedule a free 15 min consultation to learn how you can live your dreams!